Asian Faculty Workshop(AFW)
Asian Faculty Workshop (AFW) is a program initiated by Guangdong University of Foreign Studies under the framework of AUPF, aiming to promote the communication and strengthen the ties between faculty members in Asian Universities.
1st AFW 2019
The 1st AFW was held by GDUFS from July 28 to August 3, 2019 in Guangzhou, China. Representatives from 7 universities in 6 countries participated in this program, including Guangdong University of Foreign Studies (China), Bangkok University (Thailand), Philippine Normal University (Philippine), Petra Christian University (Indonesia),Universitas Kristen Krida Wacana (Indonesia), Dongseo University (Korea) and University Malaysia Perlis (Malaysia).
Centering on the theme of "Education and Technology", the 1st AWF 2019 aims to raise our academic faculty's awareness of the ever increasing complexities between education and technology, sharpen the international perspective of the AFW participants, and inspire them to incorporate their findings and new methodology into their teaching and research.
The well-known experts and scholars of this field in China had been invited to share the edge-cutting knowledge and expertise with AFW participants. Through this program, faculty members from Asian Universities fully exchanged and shared their ideas and experiences about the theme.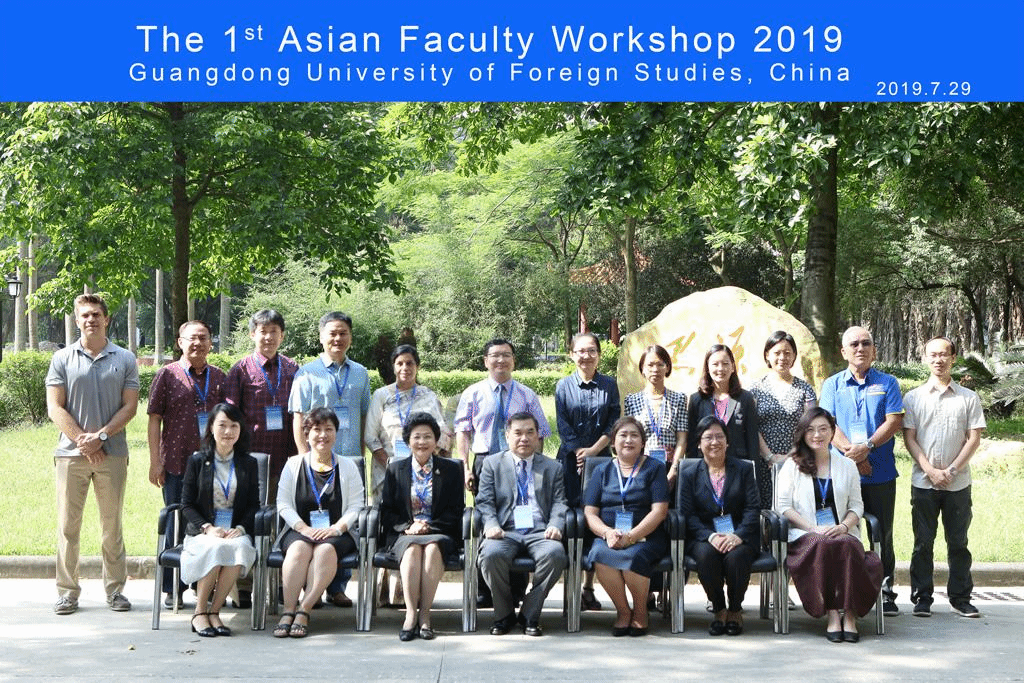 2nd AFW 2021
The 2nd AFW was held virtually by Universiti Malaysia Perlis (UniMAP) from August 25 to August 29, 2021 with the theme "Education in the New Normal".
This international online workshop was co-hosted by 5 universities including Bangkok University, Dongseo University (DSU), Josai International University (JIU), Petra Christian University (PCU), and GDUFS. Seven sessions were conducted with three interactive workshops related to Education in the New Normal, followed by real-time Q&A sessions. Representatives from various international universities participated in this program.